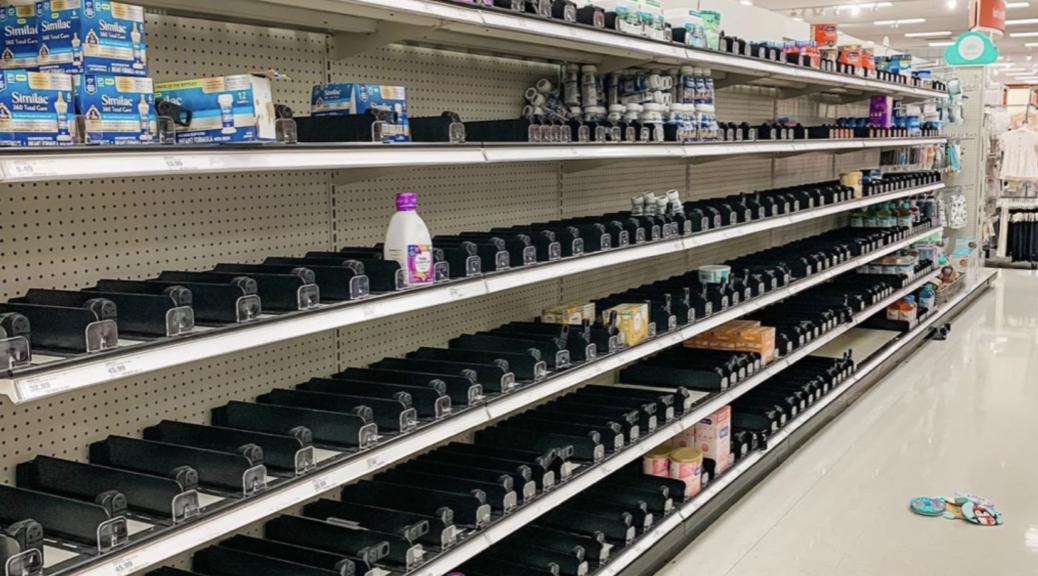 Formula Milk Shortage in the US: What to Do?
Formula Milk Shortage in the US: What to Do?
In the last few weeks, a formula milk shortage is happening in the United States. According to local media reports, the problem has worsened to the point that supermarkets, pharmacies and other retailers that sell baby formula are out of stock of these products, which are essential for feeding so many infants.
A large number of bottle-feeding families now find themselves rationing the cans of formula they have at home, giving less than needed amounts, watering down bottles, and driving miles from one store to another to find empty formula milk shelves. Even charities face great difficulties in supplying formula to the families they serve. In this article, we answer key questions about the current formula shortage in the United States.
Why is there a formula milk shortage in the United States?
According to many major media outlets, the U.S. formula shortage is due to supply chain issues, labour shortages and problems in finding raw material ingredients tracing back to the pandemic. This has been amplified by the recall of Abbott Nutrition brand formula products since February due to plant contamination problems, that resulted in at least four infants being admitted to the hospital for bacterial infection and the death of two of them.
This shortage cannot be met by importing formula from outside the country, as the FDA (Food and Drug Administration) prohibits the importation of most powdered infant formula manufactured abroad, including products made in Europe, due to very specific and restrictive labelling and packaging standards and trade agreements. Currently, three U.S. companies account for 95% of the country's milk powder sales according to Amanda Starbuck, Research Director of Washington D.C. based food safety non-profit and policy organization Food & Water Watch.
What is the impact of this formula milk shortage on families?
Clearly, the thought of not being able to feed a baby causes a frightening sense of helplessness, and in the case of mothers in the already vulnerable moment in life that is the postpartum time, this causes a devastating level of stress, in addition to the nutritional risks for the children who rely on this nutrition.
What have the country's authorities done about it?
The White House has reported that the FDA was "working around the clock to address any potential shortages," working with formula manufacturers to increase production. Still, the problem "is not going to fix itself in a day or a week," Brian Deese, a senior White House economic advisor, has acknowledged to CNN news. President Joe Biden has predicted that "it will be a matter of weeks or less".
Does this affect the entire population of the country equally?
As reported in an article by 'The Independent', the problem "affects the rich, the poor, the middle class, mothers of newborns and those with slightly older babies, parents of children with special needs. The shortage does not discriminate." However, we know that lower-income families have lower breastfeeding rates, among other reasons due to job insecurity and greater difficulty in accessing professional breastfeeding support, which makes them more vulnerable in times of shortage of these products. At the same time, these families have more difficulties purchasing more expensive alternatives.
Has the formula milk shortage in the United States caused prices to rise?
As the New York Times explains, "private online sellers are driving up prices, marketing cans for double or triple their normal price."
Is there a solution?
As said before, the FDA is working with brands to end this lack of products and Abbott Nutrition, one of the most affected manufacturers, has assured the company is doing everything possible to return to its normal distribution levels, including increasing production in its US plants and shipping products from its facilities in Ireland.
Is it possible to make homemade formula?
Some online forums have shared recipes for homemade formulas that are not recommended. It is entirely NOT advisable to make formula milk at home, because hygienic measures and the nutritional needs of babies are at risk. "Although recipes for homemade formulas circulating on the Internet may seem healthy or less expensive, they are not safe and do not meet the nutritional needs of the infant. Infant deaths have been reported from the use of some homemade formulas," as highlighted by the American Academy of Pediatrics (AAP).
How can we support families who cannot find formula milk for their babies?
If a mother is mixed feeding (breastfeeding and formula), depending on each individual case and with appropriate support, it is possible to try to increase the mother's milk supply as much as possible through relactation and by applying techniques to increase milk production. In response to the formula shortage, the American Academy of Pediatrics (AAP) has recommended that in extreme cases, cow's milk might be used for infants older than 6 months, but no more than 710 millilitres (24 ounces) per day: "If your child is older than 6 months and usually has regular formula (not a special product for allergies or other special health needs), this may be an option.
In short, you can give whole cow's milk for a short time until the formula milk shortage improves. This is not ideal and should not become routine. However, it is a better option than diluting formula or making unsafe homemade formula. The AAP stresses the importance of ensuring sufficient iron intake to prevent anemia, by making sure to include "plenty of iron-containing solid foods in their diet while you are using whole cow's milk," while recommending discussing with your paediatrician the possibility of giving your baby an iron supplement until formula is available again, the association adds.
References:
https://healthychildren.org/English/tips-tools/ask-the-pediatrician/Pages/Are-there-shortages-of-infant-formula-due-to-COVID-19.aspx
https://healthychildren.org/English/ages-stages/baby/formula-feeding/Pages/Is-Homemade-Baby-Formula-Safe.aspx
Photo with permission by Amanda Warring (IG @amanda.warring), Target, Pembroke Mall in Virgina Beach (Thank you!)