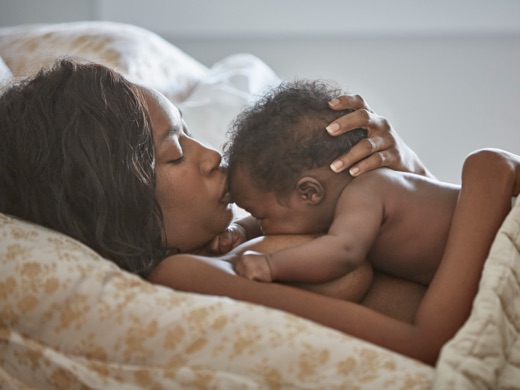 How to know that everything is going well the first few days
How to know that everything is going well the first few days
Any mother could feel anxious about the first days of breastfeeding when everything is new, and we are invaded by doubts and fears. In this post, we talk about what we can pay attention at the first few days after the birth of our baby and that it will let you know how things are going.
Pain:
For the first 15-17 days, when your baby latches on to your breast, you may feel a pinching sensation, which should not last more than a few seconds. Nipples that are very sensitive during pregnancy maintain that sensitivity for a few days until the hormones (estrogen and progesterone) are definitively lowered. If, apart from the pinching sensation, the pain lasts longer, ask for help. Surely something can be improved.
Breast condition:
In the days after childbirth, many changes can occur in the breast and are usually unpleasant. If all goes well, you will only notice the heaviest and warmest breast. On the other hand, if something doesn't go well at all, you may notice different things:
Cracked nipples should not be part of breastfeeding. We usually think that you have to experience them anyway, but nothing could be further from reality. If you have cracks, there is something that can be improved and it is important to seek help as soon as possible.
After delivery, within 48-72 hours, milk will rise. If this process becomes complicated, an ingurgitation occurs. It is important to resolve it as soon as possible.
When the baby breastfeeds and you feel pain, or if there is a red spot on the breast and you have muscle pain, it is important to be assessed as soon as possible, as this could be mastitis.
Feedings:
The first few days babies may be sleepy and not demanding, although the opposite may also happen: they may be demanding, asking frequently. It is complicated to separate what is "normal" and expected from what is not. So what we need to check about breastfeeding is:
Breastfeeding 8 to 12 times in 24h: keeping in mind that breastfeeding behavior  is usually quite different throughout the day and night. Normally babies are calmer in the morning and demand increases as the day goes by. At sunset is the time of greatest demand. Also to say that very usual that the babies are more active at night than during the day, since the maternal prolactin (hormone that is in charge of making the milk) reaches its maximum peaks during the night.
Self-releasing: Intakes are usually long for the first few months, babies can spend 40 to 60 minutes on the same breast until they release on their own. The first three months usually have leftovers from a single breast, as each breast produces 33% more milk. After this time, the baby should leave the breast by himself. but if you have the feeling that your baby will never finish the feeding on its own, it is recommended that a specialist review the feeding and sucking of the baby.
Baby's stools:
Baby stools, when only breastfeeding is a very good way to know if the baby is feeding properly.
Amount of peeing: The amount of peeing is increasing day by day and it is very easy for you to remember if you check this chart. The important thing is that no pink spots appear after the first three days of the baby's life and the urine is clear and does not leave any spots on the diaper.
Amount of stool: The first stools that the baby makes are meconium. And in around 5 days, the baby should already be making mustard-coloured poop. In order for us to be able to count that it is a poop, they must have the minimum measure of a soup spoon. If the baby has taken one or more supplements of artificial milk this pattern will be modified.
Baby hours

24 h

48 h

72h

4 days

5 days

From 6 days to month

Pee

1

2

3

5-6

5-6 

or more

5-6 or more

Poop

1

2

3

3

or more

(sometimes they don't)

3 

or more

3

or more 

or one after each shot
Weight loss
All babies lose weight after birth, this is a physiological loss that should not exceed 7% of their weight, although most of the time the baby manages to lose up to 10% of their weight.
What happens is that the first three days of life the baby loses weight (those 200-300 g typical in most babies) to begin to recover it from the 5th day of life, and finally, to recover it completely, at 15 days of life.
If you want to help and avoid losing weight, it is key that you keep as much as you can to your baby skin with real skin, the maximum possible hours. If the baby does not have to spend energy to maintain body temperature, he will lose less weight and maintain better glycemias.
In short, as you can see, the important thing to know if everything is going well in the first few days is to see that both the mother and the baby are fine: that the mother does not have pain and that the baby is well and gains weight correctly. Whenever you have doubts, contact your midwife or a breastfeeding support group so that they can assess your breastfeeding and give you support in whatever you need.
Do you have any other questions?
You can find more information about all things breastfeeding in our free app, LactApp for iPhone or Android. In the contact section of the app, you can find an in-app consultation channel, where our experts will answer your questions.