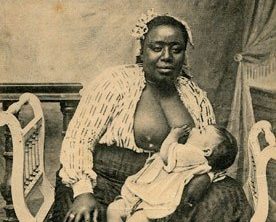 Is it necessary to celebrate Black Lactation Week? 
Is it necessary to celebrate Black Lactation Week? 
We are in the middle of the Black Breastfeeding Week Celebration in its 7th edition. To spread the word, we have posted on our Instagram account a photograph of a black mother breastfeeding her baby and we have shared the news about this celebration that takes place from 25 to 31 August.
It's great to have our followers on the LactApp social networks. The responses to the image are reactions of surprise because in the 21st century we still have to be differentiating between black and white, when we are all the same. 
Still, despite what we may think, the Black Breastfeeding Week is necessary, and a lot.
All the breastfeeding initiatives have started from entities led by white women and all the wonderful work that has been done has been done without taking into account the specific difficulties of other ethnicities or cultures. So today, in the United States, where breastfeeding rates are particularly low, white women begin breastfeeding in 75% of cases, compared to 58.9% of black women, and the duration of breastfeeding is much shorter. 
At LactApp we do not usually talk about the benefits of breastfeeding, because we are convinced that women do not need more pressure, but support and facilities to achieve the breastfeeding experience they wish. Even so, it is known that breastfeeding has health benefits for both mother and baby. So much so that black babies double the mortality rate of white babies – they even triple it in some areas – and increased breastfeeding could save the lives of 50% of these babies. 
Surely all the progress we have made to date in relation to breastfeeding benefits us all, but black women have specific cultural barriers such as their historical role as wet nurses in slavery, to the detriment of their own children. If we look at the image of this very post carefully and see how this black woman feeds a white baby and has surely been forced not to breastfeed her own baby. And, at present, there is a clear lack of references. We only have to look at our own accounts on social networks or our own breastfeeding app, despite all our good intentions, is clear lack of sensitivity on racial issues. Perhaps because we are not sufficiently aware of the problem or because we do not know how to support/help, for all this we are very convinced that Black Breastfeeding Week is very necessary and should be on our annual calendar without fail. Little by little we will be learning, with them at the forefront.
Follow: 
Find more information about all things breastfeeding in our free app, LactApp for iPhone or Android.