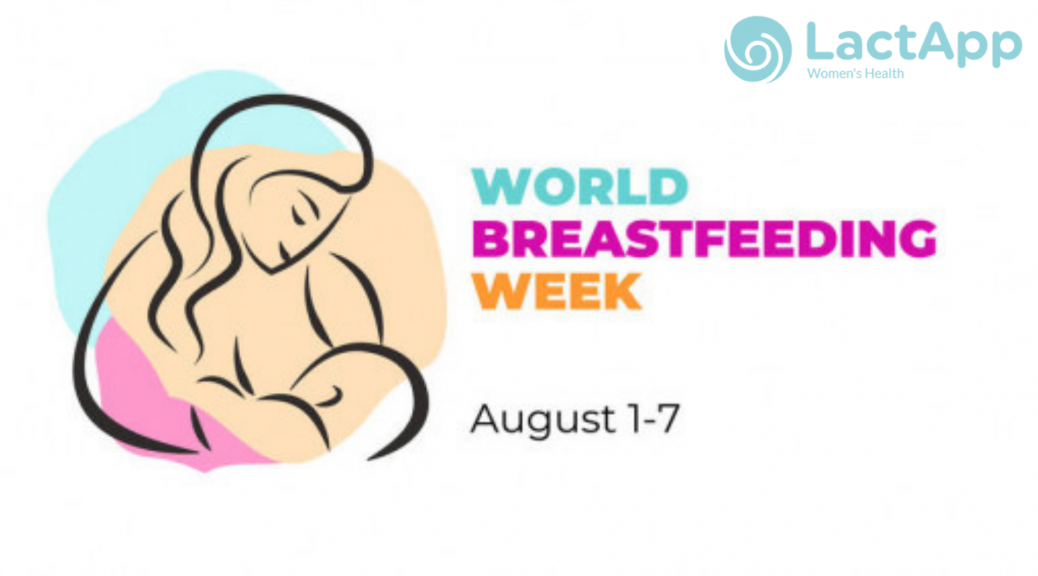 Welcome to World Breastfeeding Week 2021!
Welcome to World Breastfeeding Week 2021!
The Week ahead at LactApp
This week we celebrate World Breastfeeding Week 2021, an occasion that our cofounder Alba has been celebrating over 20 times and every year more associations, brands and individuals join. This year the official theme of worldbreastfeedingweek.org is all about #ProtectBreastfeeding #SharedResponsibility and #buildingbackbetter.
At LactApp we are here for breastfeeding mothers every day of the year, but on this occasion, we would like to look back to what was a very difficult year for many, and probably most mothers everywhere. Here is a little summary of our activities for this week, as we celebrate, look back to a year in breastfeeding and look ahead to a future of supporting mothers through our mobile technology and research, so they are informed and empowered to achieve their individual breastfeeding goals.
LactApp Breastfeeding Report 2020
Our mobile App, LactApp, available to download for Android and iPhone has had over 500,000 downloads from 177 countries so far. As we are at the pulse, or better at the fingertips, of the needs of new mothers, this year we have published for the first time the "Breastfeeding Report 2020". This report reviews how the pandemic has affected breastfeeding based on an analysis of the use of the LactApp by our users together with a review of recent international studies that shed light on issues such as the state of postnatal maternal mental health, the rise of digital health solutions and the challenge of vaccination.
We uncover how much our in-app breastfeeding and maternity consultations have increased after the start of the pandemic and specifically show how consultations about mastitis, low birth weight and relactation have increased, due to the strain of the pandemic on maternity protocols and closures of many in-person services such as breastfeeding support groups and follow up visits. Here you can download our full "Breastfeeding Report 2020" and also check out our Cofounder Maria's LinkedIn Article as she appeals: "At the time of a global pandemic, the health of mothers and babies should remain a priority that we must never again forget."
Instagram Live Sessions
Follow us on our Instagram channel @lactapp_breastfeeding and join our Live Sessions with amazing thought leaders and trailblazers from the other side of the Atlantic.
Kimberley Seals Allers
On Tuesday, at 5 pm UK time (18:00 European time and 12:00 noon New York Time) we speak to Kimberly Seals Allers, an award-winning journalist, author of "The Big Letdown" Book and Founder of The Irth App, as in Birth, but without the B for bias. Not only is Kimberly a founding member of the Black Breastfeeding Week initiative, where you should definitely not miss the announcement video of this years' theme "The Big Pause – Collective Rest for Collective Power". (If you have missed this live session, you can still view the recording here).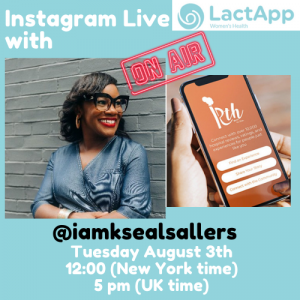 Dr. Ayanna Robinson
On Thursday at 8 pm UK time (21:00 European Time and 15:00 Atlanta Time) we will meet Dr. Ayanna Robinson from the Black Girls Breastfeeding Club who will talk to us about her research on breastfeeding support Facebook groups, how she founded the Black Girls Breastfeeding Club and what World Breastfeeding Week means to her.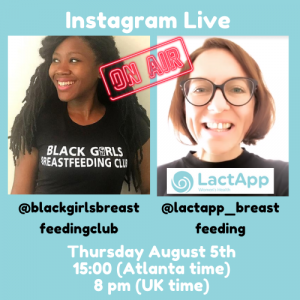 If you also happen to speak Spanish or if you would like to learn some more, we are launching our LactApp Plus Premium version where you can find educational videos on breastfeeding, every day an informational video of the day and personalised alerts tailored to your individual breastfeeding journey, so you always know what comes next. To change your language settings, just head to your personal profile, settings, change language and select Spanish.
Have a great #WorldBreastfeedingWeek!