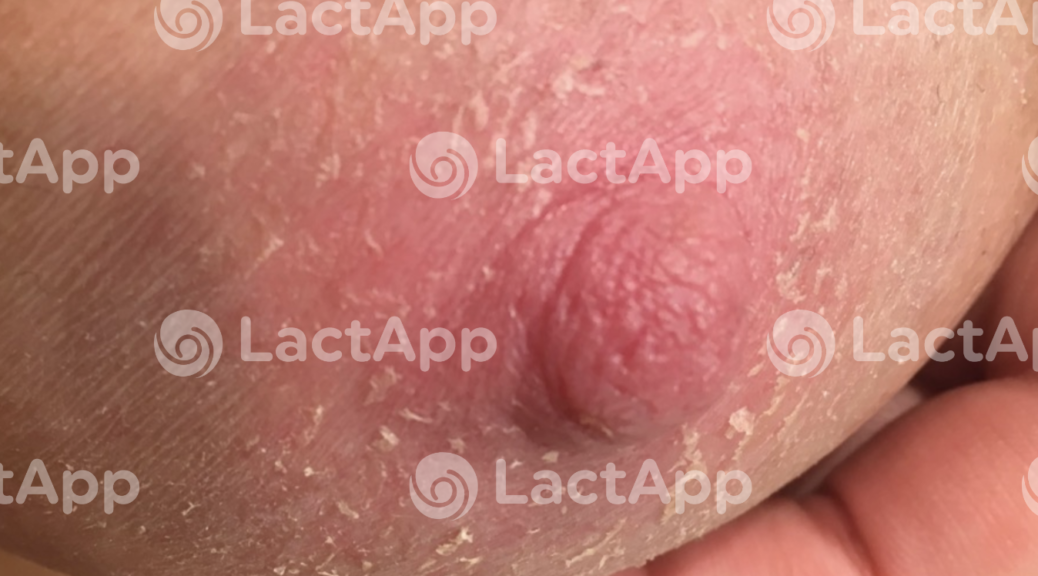 Dermatological problems in lactation
Dermatological problems in lactation
Dermatological problems during lactation can cause pain and discomfort in women. We know that pain is one of the leading causes of early unwanted stopping of breastfeeding. This is usually due to problems with the latch or limited mobility of the baby's tongue (tongue-tie) and can cause sharp pain, a burning sensation, or nipple damage and cracks, either during or between feeds. However, there are also other situations, such as dermatological problems, that are not related to the breastfeeding technique and require interdisciplinary work to allow for a continuation of the breastfeeding journey.
Dermatitis and eczema on the breast are usually the most common among those problems.
For a resolution, it is critical to refer the patient to a specialist dermatologist service to assess and prescribe the most appropriate treatment. So it is essential to know how to evaluate and be able to guide the first actions in a breastfeeding consultation.
Eczema
Eczema is an inflammatory skin condition with thick erythematous plaques and fissure-like wounds or cracks, sometimes accompanied by scabs and crusts. Usually, skin peeling of the affected area (areola and nipple) can be observed.
The woman usually reports itching and/or burning pain during and after breastfeeding. This occurs in women who breastfeed beyond 6 months of the baby's age, manifests in outbreaks, and usually will be present during the woman's entire breastfeeding period.
The first line of care is to keep the area clean by washing it with water and neutral soap once or twice a day. If there is no improvement, it is usually advisable to apply corticosteroid cream prescribed by a dermatologist. Intensive moisturizing with moisturizing cream with an emollient effect should be the daily routine for the patient during and between outbreaks.
The wounds, if any, should be well assessed, as infection can easily occur. In this case, applying an appropriate antibiotic treatment would also be advisable.
Finally, it is essential to accompany the woman emotionally, as outbreaks will likely be painful throughout breastfeeding.
Skin dermatitis
Skin dermatitis is another possible condition within these situations. Usually, there is a defined area of the areola and nipple with erythema and without lesions. It is generally related to a contact allergy and appears with a stinging sensation.
As for treatment, in addition to keeping the area clean and applying moisturizing emollient cream, the cause of the lesion should be identified because it is usually caused by a product that, at a topical level, is causing a possible allergy. So it is advisable to eliminate it from the patient's daily routine; these can be: a shower gel, washing powder, moisturizing cream, nursing pads, bra fabrics, and so on.
In a situation with damage of this type, a differential diagnosis with other entities needs to be made to be able to apply other more appropriate treatments:
Scalded skin syndrome from staphylococcus aureus infection: this usually occurs in women within their first months of breastfeeding (before six months). Treatment with corticosteroids improves the symptoms, and it is advisable to perform a milk culture to prescribe the most appropriate antibiotic treatment. Usually, with an antibiotic cream, the symptoms disappear.
Paget's disease: a rare disease associated with breast cancer. It should be referred to a specialist dermatologist for assessment when a with corticosteroids does not resolve.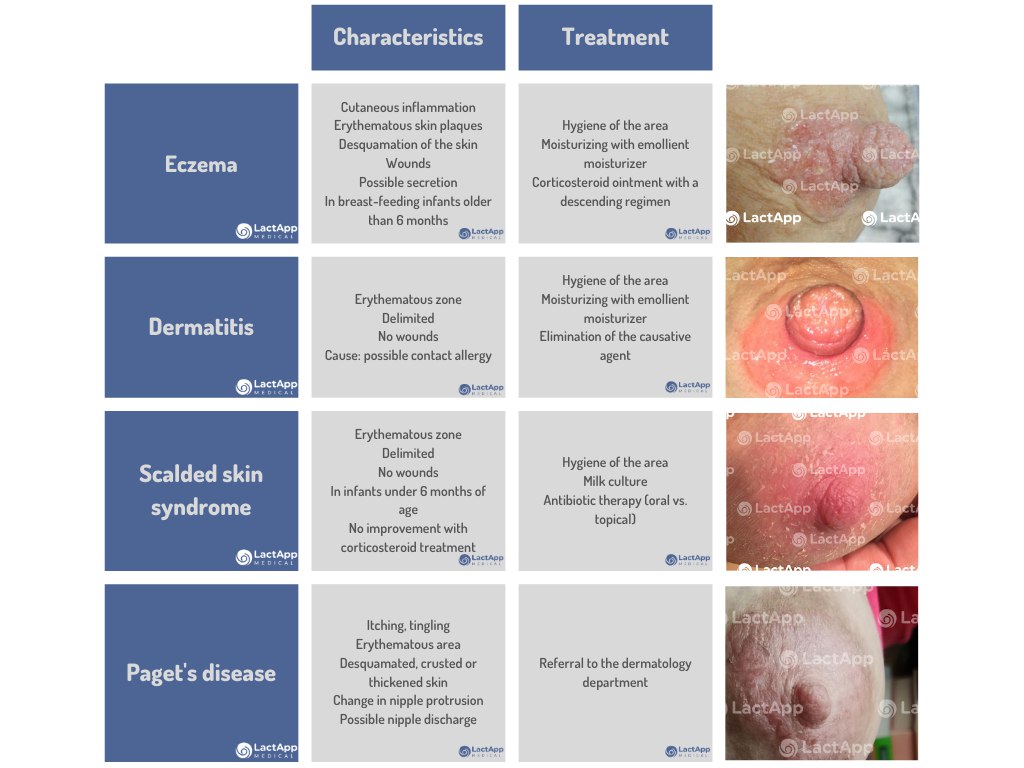 References:
Gilmore, R., Prasath, V., & Habibi, M. (2020). Paget Disease of the Breast in Pregnancy and Lactation. Advances in experimental medicine and biology, 1252, 133–136. https://doi.org/10.1007/978-3-030-41596-9_18
Kent, J. C., Ashton, E., Hardwick, C. M., Rowan, M. K., Chia, E. S., Fairclough, K. A., Menon, L. L., Scott, C., Mather-McCaw, G., Navarro, K., & Geddes, D. T. (2015). Nipple Pain in Breastfeeding Mothers: Incidence, Causes and Treatments. International journal of environmental research and public health, 12(10), 12247–12263. https://doi.org/10.3390/ijerph121012247